2022/11/12
Important Infrastructures in Wenshan District from the Past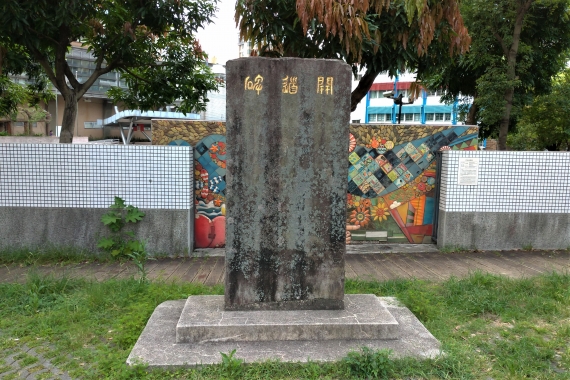 Wenshan District, which occupies the southernmost tip of Taipei City, was under the administration of Taipei County (the district was divided into Jingmei Township and Muzha Township at the time) before the city was upgraded to a special municipality. It used to serve as the entrance leading from the southern part of the Greater Taipei Area into Taipei City. Throughout the development of Greater Taipei, there are several important developments in Wenshan that have a lasting place in public memory.
The earliest major infrastructure in Taipei is a hydraulic engineering project developed to irrigate the Taipei Basin. In around 1740 (an early year of the Qianlong era), Wulixue Canal was built to irrigate crop fields in Western Taipei by drawing on Jingmei River through Liyu Mountain, which stands at the back of the National Examination Center. By 1760 (during the Qianlong era), Kuo Hsi-liu led a project to build the Liugongjun canal system, which would channel water from Qingtan River in Xindian, with the water diverted by a wooden trough bridge through Jingmei River and into fields in eastern Taipei. In 1908, when Taiwan was under the Japanese rule, the first reinforced-concrete bridge in the nation—Liugong Bridge—was erected in Jingmei; the bridge would take over the wooden trough bridge to distribute water for Liugongjun and boats to enable physical access between Jingmei and Xindian. The bridge was also used by push cars traveling from Nanmen to Xindian. Such an important historical infrastructure led to partial changes in the aqueducts of Liugongjun in Jingmei, and those changes are inscribed on the Kaidao Memorial Tablet, which was installed at the head of Liugong Bridge that chronicles how Jingmei's road infrastructures were developed in the old days.
  The Kaidao Memorial Tablet—which measures 170 cm in height, 83 cm in width, and 16 in thickness—was inscribed by Gao Xuanfeng, the last successful candidate in the imperial examinations in Taiwan under Qing rule. It was erected in 1909 (the 42nd year of the Meiji era) to chronicle a series of developments undertaken in Kengbe: after Liugong Bridge was built in 1908 to take over the wooden trough bridge, the aqueducts of Liugongjun in Jingmei Street were partially re-routed to stretch to Jingwen Street instead, turning Kengbe Street into an abandoned ditch that became infested with insects when it rained; however, the street was paved and converted into roads thanks to public and private efforts, and the rocky roads leading from Kengbe to Muzha widened and leveled. After levees were set up along Jingmei River, the Taipei City Archives Committee, concerned that the monument would go missing, moved it to the 228 Peace Memorial Park for preservation. Informed by the Committee, residents in Jingmei rediscovered the monument in 1996. The following year, the monument was returned to its original site amid the 100th anniversary of Jingmei Elementary School's founding, re-witnessing the development of Jingmei.
With regard to local transportation infrastructures, there was the roll-out of push cars designated to travel between Nanmen and Xindian in 1908, and push-car tracks that led to Muzha, Shengkeng, and Shiding were laid down for making deliveries and serving strategic purposes. In 1921, the privately-owned Taihoku Railway Company built a 10.7 km-long railway traveling between Wanhua and Xindian (popularly known as the "Wan-Xin Railway"). The railway served Shiwufen and Kengbe stations in Wenshan District, from which deliveries could be sent using push cars to the neighborhood of a Railway Station on the present-day Roosevelt Road for collection and transferred to Taipei. The Shiwufen Railway Station was also furnished with push cars transporting the coal mined from the vicinity of the present-day Taiwan Police College on Section 3 of Xinglong Road. Travelers leaving the Shiwufen Railway Station would also use these cars on Tomb-Sweeping Day every year to go to worship their ancestors buried in the graveyard in Xinfu. Apart from providing a means of transportation, the cars were frequently used by people who went to Bitan Tourist Attraction through Wan-Xin Railway. Yet, as automobiles were increasingly used as a means of land transportation and the need grew for evaluation for national defense purposes, the railway discontinued its service in 1965, although it remains etched in the mind of local elders.
A building of historical importance preserved in a region is designated as a heritage site, and understanding a heritage site allows one to explore the local history. The most important heritage site in Wenshan District is Jiying Temple, which is located in Jingmei Night Market. The history of the temple provides a rough understanding of early immigrants to Wenshan District. In around 1735 (an early year of the Qianlong era), three individuals respectively surnamed Gao, Zhang, and Lin arrived at Jingmei River from Xindian River, going ashore at Xizikou and settling in Jingmei. Afterwards, they went their separate ways. By 1867 (the 6th year of the Tongzhi era), Kao had constructed Jiying Temple in the present-day Jingmei Street, which is dedicated to Revered King Baoyi. This quaint house of worship was registered as a third-grade national heritage site in 1985.
In 2008, the Department of Cultural Affairs of Taipei City Government recognized Xingfu Village Monument (erected in 1930) in a graveyard as a city-designated heritage site. This monument chronicles local gentry making money donations to build graves for deceased individuals from poor families. Also in the graveyard is Lai's Tomb Tower, an Okinawa-style cemetery built in around 1940; it was designated as a heritage site in Taipei City. In Wenshan District, two buildings associated with funerary have been recognized as cultural assets, and this is how mountainous areas on the outskirts of Taipei were used in early Taiwanese society. In 2019, Wenshan Church, located in Kaiyuan Street in Muzha District, was designated as a heritage site; it witnessed how Rev. George Leslie MacKay, the founder of the church, did his missionary work in Wenshan District.
Some artifacts (patu-shaped stone implements and net sinkers) left from the "Shiwufen archeological site" have been found in Jingmei Sports Park on Jingfeng Street in Wenshan District. Because of their discovery, the development of Wenshan District has been dated back to as far as the late Neolithic period (2000 B.C.). Details in this regard are available in "Chapter 13: A Potential Archeological Site of Shiwufen."
※ 感謝鄭之瑜(Kat Chamberlain)老師協助本文翻譯校閱。