2022/11/12
Landscape of Jingmei during 2000–2020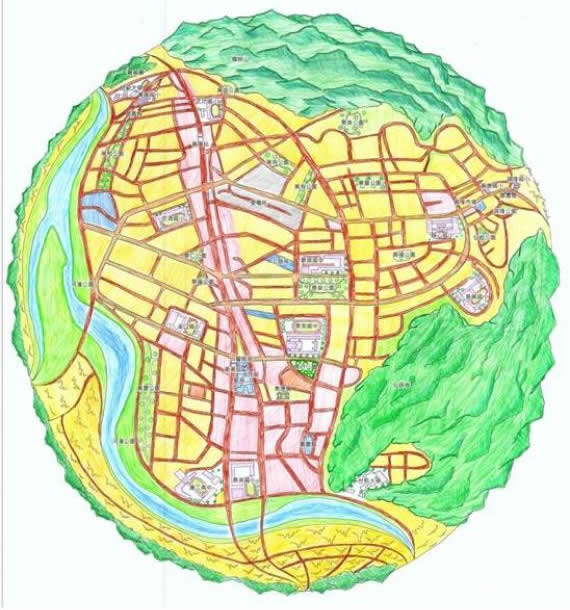 Jingmei's commercial activity remained at its peak throughout the 1990s, but it started to quiet down in 2000. Jingmei Night Market, having undergone no physical improvements to the region, made less profits than before. Super Star Cinema, which presented first-run movies, closed in 2005, and so did Hanshin Department Store in 2006 and Qiaoxing Cinema in 2007. Crowds in the commercial district of Jingmei were thinning. However, with travelers transferring from the MRT Wangfang Hospital station, the opening of Wangfang Hospital contributing to plenty of business opportunities in its neighborhood, and many educational institutions operating near the hospital, commercial activity around the hospital picked up. In 2013, edora Park, a department store, opened for business where Hanshin Department Store had been based. edora Park changed its operations several times; it now mainly sells Japanese-style apparel and meals and has made profits accordingly. Jingmei's first Starbucks branch is also based in the local commercial district, which may help bring the district back to its heyday.
Meanwhile, the local real estate market was bustling with construction projects and urban renewal plans. Residential buildings were mushrooming; among them was Yuetai Paradigm (Yuetai Fengfan) on Cheqian Road, the first 33-story steel high-rise in Jingmei that was unveiled in 2015. A cluster of bungalows standing between Jingxing Road and Jingmei Old Street were reconstructed into a 27-story high-rise as a result of urban renewal. Built on land for commercial use, undergoing urban renewal, and provided with various government incentives, small buildings were turned into high-rises all at one time, which now stand out in stark contrast to the skyline of Jingmei Old Street. A community culture hall was completely built on a plot of vacant land behind Jingmei Jiying Temple in 2019. The performance platform on the temple's square was removed in 2020, an important development of the square.
With respect to the development of public lands, Wanlong Electrical Substation in Jinglong Street, which has been designated to shift underground, is the focus of much attention. The construction of a building with 6 stories underground and 15 stories above the ground kicked off in the north of the station in 2009. The building's main structure was not completed until 2019. The third to sixth stories underground were designated for some of the substation's equipment. Yet, the whole project has stalled because locals urge the substation to be moved underground in its original location. Another public land development plan that deserves a look is a site in Alley 142 of Section 6 of Roosevelt Road where the Ministry of Finance (MoE) Park is now based. Through several bidding rounds of a government auction, Huaku Development Co. acquired a 70-year right of superficies to develop the site in 2013. The firm erected an office building for the MoE, as well as a residential/commercial mixed-use building that was unveiled in 2016. The MoE personnel moved to their new office building in September 2018; in front of it is an open green space featuring an eye-pleasing combination of expansive woody boulevards and public art installations. Such a development plan is important because it has reshaped Jingmei. It is also a successful one in that the sheer presence of people working at the office building helps to boost commercial activity in the neighborhood. Meanwhile, facilities in the Wanlong East Barracks of the Department of Military Justice, which has relocated, have been demolished to make way for a multifunctional social welfare building. This site served as a park for a while until the construction of the building began at the end of 2020.
Important physical changes that occurred in Jingmei between 2000 and 2020 are introduced as follows:
In 2003, the Taipei Pot Plant Auction was unveiled on Section 1 of Xinglong Road. It closed down in early 2022.

In 2006, Hanshin Department Store ceased operation.

In 2007, part of the site where Yee Fong Chemical Corporation was once based was converted into Jingmei Sports Park, and Qiaoxing Cinema closed down.

In 2009, the first horizontal street of Jingmei Night Market, which spans Alley 106 of Jingmei Street, was opened to the public, the construction of Wanlong Taiwan Power Company Office Building began, and the Old Jingmei Bridge started to be rebuilt.

In 2010, the reconstruction of Jingmei Bridge was completed.

In 2011, a bicycle path stretching from Jingmei to Muzha Riverside Park was built.

In 2013, Huaku Development Co. acquired the 70-year right of superficies to MoE Park, and edora Park opened for business.

In 2015, old buildings on Cheqian Road were rebuilt into a 33-story steel high-rise.

In 2016, a cluster of high-rises was built in MoE Park.

In 2019, the new office building in MoE Park was opened, and the main structures of the building on the northern side of Wanlong Electrical Substation, the community culture hall of Jingmei Jiying Temple, and skyscrapers (built under urban renewal plans) on Jingmei Street were completed.

In 2020, the performance platform on the square of Jingmei Jiying Temple was demolished.

In 2020, an old channel of Jingmei River, which had been repurposed as Wanhe Park No. 1, was reproduced and exhibited.
※ 感謝鄭之瑜(Kat Chamberlain)老師協助本文翻譯校閱。