2022/11/12
Education and Entertainment in Jingmei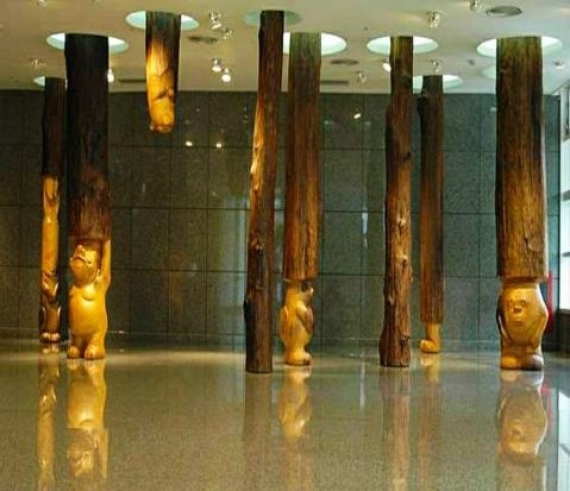 Public Art: Jingmei Current, Taipei Feel
To promote aesthetic learning and local education, Jingmei Elementary School hired artists to design a series of four public art works in 2011 with the goal of exhibiting the relationship between the Jingmei River and the local residents. The most characteristic thing about these works is that they integrated the construction materials left over from Jingmei Street's number 48 old building as the raw material to create ceramic and glaze art works.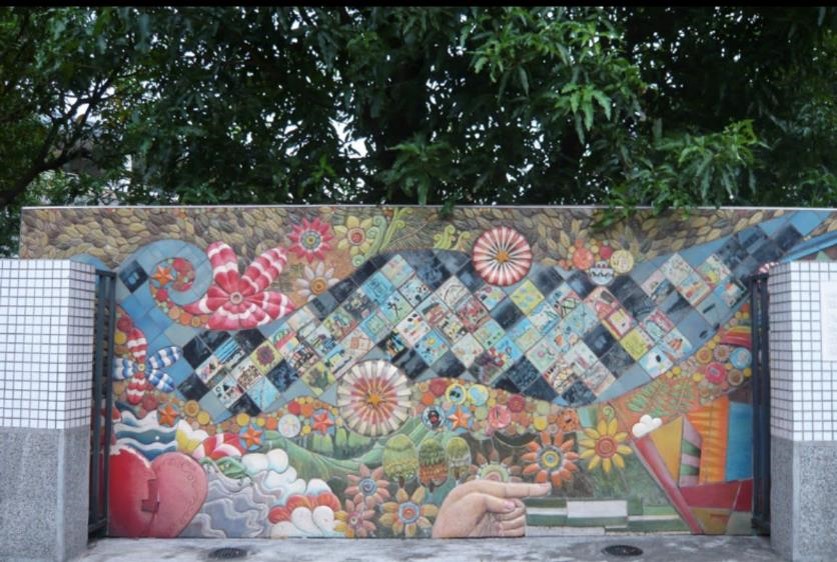 *Work #1 "Celebration of Life" 
"Celebration of Life" is placed on the wall behind the Kaidao Memorial Tablet. The nostalgic pictures fired onto the work remind us of our forebears' pioneering spirit. The blue Jingmei River, mountains and water, and plants symbolize the beauty and vitality of Jingmei while expressing our praise for Mother Nature. 
*Work #2  "Exploration of Time" 
"Exploration of Time" is placed by the water conservation pond next to the school's gate, and is integrated with the surrounding trees. The re-use of the old building material gives old building materials new life, so that they may be useful in the future. The clock, punctuation mark, and natural science education shapes provide a time exploration context. In addition, the students' cute ceramic plate works make the original water conservation pond into a fun and interactive time machine.
Wenshan Clinic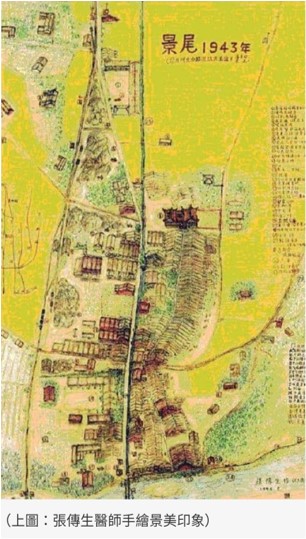 Wenshan Clinic (1943-1998) was run by Dr. Zhang Chuan-Sheng. It was the first Western medicine clinic in Jingmei. 
The clinic was a two-story building. The sign "Wenshan Clinic" is still erected at the clinic. 
Dr. Zhang had excellent medical skills. His insistence on not charging the poor won him a good reputation in Jingmei. He started to paint "Jingwei 1943" when he was 83 years old.
Wenshan Children's Theater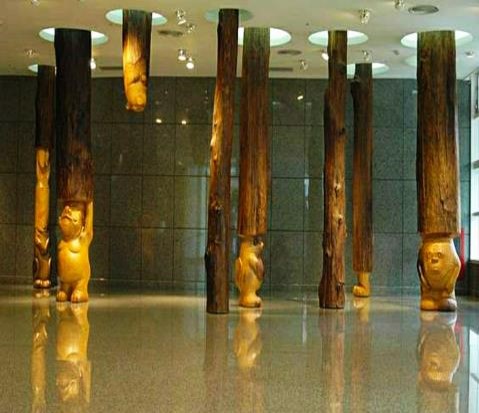 Wenshan Children's Theater is located next to Jingmei metro station in Taipei. Take Exit No. 1 after getting off the metro station and you will see the theater. There is good public transportation.
The theater changed its name several times. In 2015, it changed its name from Wenshan Children's Theater of Taipei Municipal Social Education Hall to Wenshan Children's Theater of Taipei City Arts Promotion Office because social education implies authoritarian governance, which does not meet the public's expectations. This name change also allows us to witness the transition from authoritarianism to democracy in the history of Taiwan.
Now let us have a look at this children-oriented theater. It is currently the only multifunctional art space in Taipei that has a professional theater, public art, parent-child reading space, theatrical exhibition space, and professional rehearsal hall.
B2 Theater
The theater is a professional performance space with a stage, a lounge, and 240 seats. It holds activities such as theatrical, dance, and musical performances. It also cooperates with schools of all levels on field trips.
1F Public art – Wenshan fun forest 
Trees turn into forests; forests turn into mountains. Native Taiwan cypress is carved into different types of cute animals in the hope of triggering people's imagination.
2F Parent-child reading space
The space offers a comfortable reading environment and various wonderful picture books. It is a cozy space where parents and children can read together. There is one free session of storytelling every week, which is children's favorite.
3-4F Theatrical exhibition: From backstage to the stage
Interactive devices are used with text and illustrations to introduce plays, whereby people learn how interesting stories are presented to them via changes in lighting, costumes and props, and the use of stage setting.
6-8F Rehearsal hall
The hall is a rehearsal space with soaring two-story ceiling; it is provided to professional groups to rehearse. 
10F Dance studio/art room
The studio/room is a small rehearsal space, where art activities including courses related to music, dance, fine arts, and plays are available for parents and children.
The Protected Bishop Wood 
Number 1414 protected Bishop Wood is over 95 years old. This tree and the smaller one behind it have been nicknamed the "couple trees (in a May-December relationship)" by the locals.
Bishop Wood trees are excellent trees for sidewalks. Their roots, bark, and leaves can be used as medicines. The timber can be used as construction materials, bark as red dye, and leaves in cooking and tea brewing. You can also stuff a chicken with the said leaves and garlic, and stew it. This dish is known as "chicken with Bishop Wood leaves and garlic."
Bishop Wood trees have the functions of beautifying the environment, purifying air, regulating the climate, and reducing noise.
Jingmei Elementary School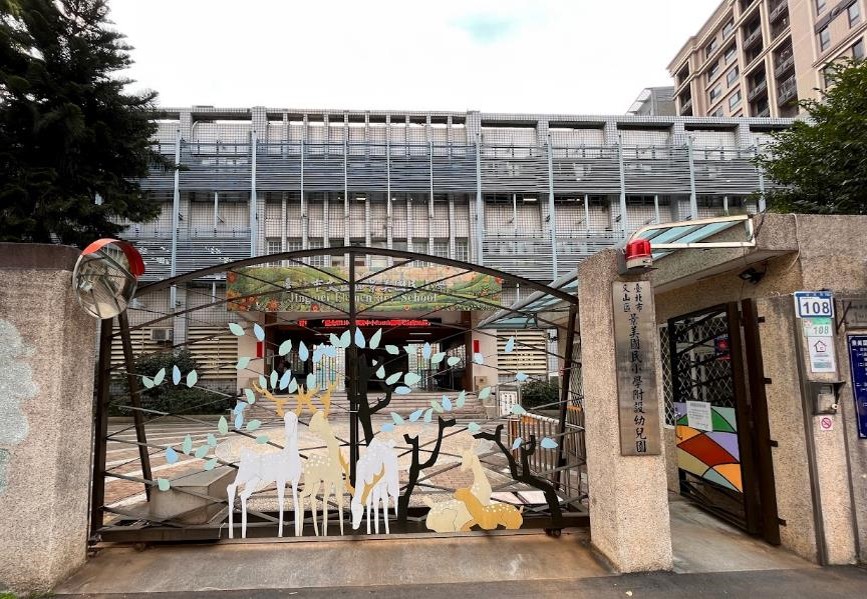 Jingmei Elementary School is located down the Jingwen Street, next to the bank of the Jingmei River. It is the first public school in Wenshan District. Established in 1897, the school has nearly 125 years of history. Currently, there are three schools in Wenshan District that used to be its branches. 
The school name has been adjusted several times to adapt to changing times and reforms of administrative divisions.
The most famous and impressive object on campus is the two Manila tamarinds, also known as "couple trees", that are almost as old as the school itself. They are classified as protected trees by the Department of Cultural Affairs under Taipei City Government.
If the Bishop Wood is said to have witnessed this school's century old history and story, then Jingmei Elementary School can also be said to have seen the changes and development around the school since the Japanese occupation: 
1. The school is close to Jingmei River. It bears witness to changes in the four generations of Jingmei Bridge in addition to shipping in the early years.
2. From 1908 to 1968, Liugong Canal flowed through Jingwen Street on the east side of the school.
3. In 1919, the public market diagonally opposite the school was established. 
4. From 1921 to 1965, Wanxin Railway ran through the west side of the school, which is now known as Roosevelt Road. There is heavy traffic on the road.
5. In 1997, the Kaidao Memorial Tablet was re-erected outside the school wall next to Jingmei Bridge.
All in all, there are lots of stories here. The school has a rich history! 
Formerly Qiaoxing Cinema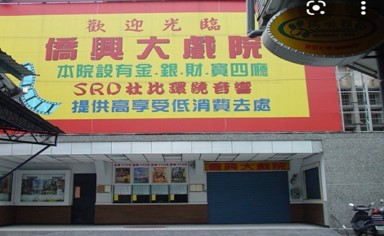 Qiaoxing Cinema was established in 1973, and closed down in 2011. In 2015, the two-story cinema was remodeled into a 33-story skyscraper.
You could watch two movies with one ticket in Qiaoxing Cinema. With cheap movie tickets, this cinema that offered second-run movies attracted lots of people in the neighborhood to the movies it played, such as Gone with the Wind, Jurassic Park, Titanic, Home Alone, Mission: Impossible, and other blockbusters. It is said that people who went to see the movies lined up from the ticket counter to Wenshan Children's Theater. After cable TV, DVD movies, and home theater systems became available, most people chose to stay at home instead of going to the cinema when they wanted to watch movies. The cinema eventually closed down.
In the 1980s, Henian Hospital and Qiaoxing Cinema were the most prosperous places in Jingmei. 
Formerly Henian Hospital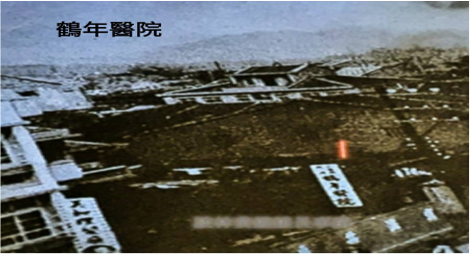 It is hard to not talk about Lin He-Nian's father, Dr. Lin Huang-Zhong, when speaking of Henian Hospital. Dr. Lin enjoyed a reputation in Jingmei. He served as the first mayor of Jingmei Township in 1950. Lin He-Nian met his father's expectations and became a physician. He opened Henian Hospital.
The two-story building at the location of Henian Hospital was remodeled into a seven-story building named "Ruixing Building." The building was completed in 1978.
Ruixing Building was the first seven-story condominium in Jingmei District. It was also a representative building of Jingmei at the time.
※ 本文由2021年【英語普及青年講師培訓】課程學員撰文,由石碗如女士進行翻譯校閱。