2022/11/12
Food in Jingmei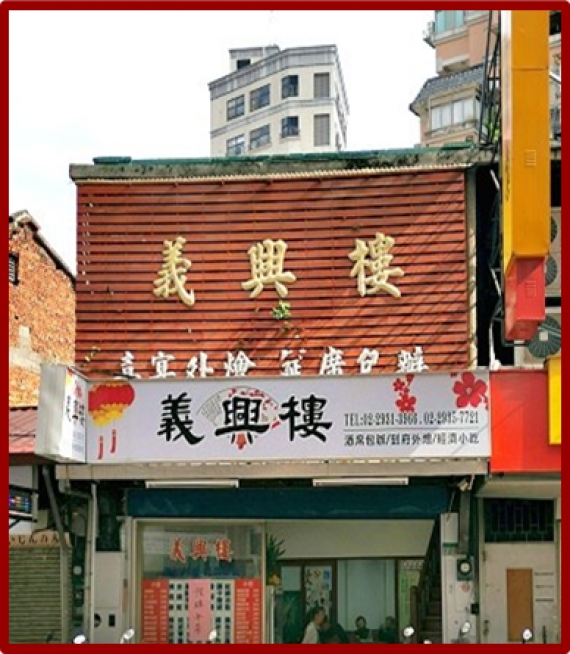 Hengde Pharmacy and Hengmao Pharmacy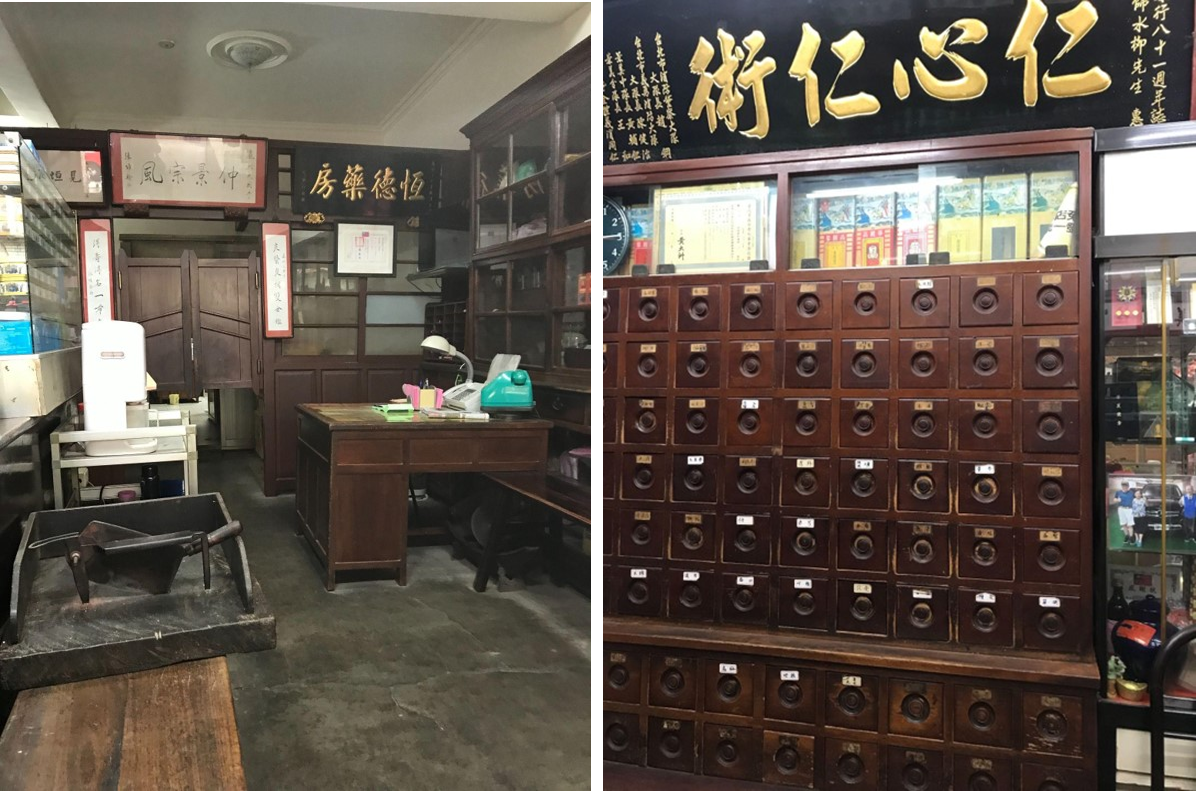 Both Hengde Pharmacy and Hengmao Pharmacy are traditional Chinese herbal pharmacies. They are also century-old stores in Jingmei. Traditional Chinese medicine has several thousand years of history. In Taiwan, people can choose to visit a public or private traditional Chinese medicine or Western medicine hospital or clinic at their discretion when they are ill. Hengde Pharmacy and Hengmao Pharmacy dispense medication according to patients' condition. Most traditional Chinese herbal medicines are made from natural plants, which significantly differ them from Western medicine.
Xu Xing-quan Brewery and Mansion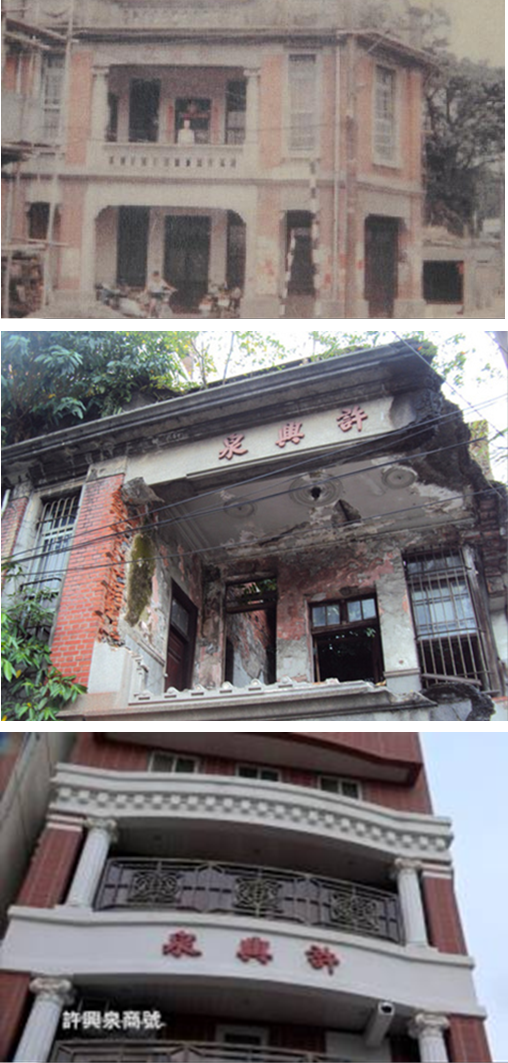 Xu Xing-quan Brewery and Mansion is located at the intersection of Jingmei Street and Muzha Road. It is the former residence of rich businessman Xu Neng-Cai in Jingmei. In his early years, Mr. Xu worked in the winemaking industry. Later he invested in coal mines and real estate. With a vast amount of money, he was known as the richest man in Wenshan. The construction of the store started in 1926 and completed in 1930. It is a Western-style house made of reinforced concrete. Surrounded by a river and a mountain, the house was the most splendid mansion in the Greater Wenshan area at the time. However, it was dismantled and became ruins in 1982 when Muzha Road needed to be widened. It was not until 2012 that the house was carefully planned, designed, and renovated by Xu Chun-Hui, the fourth son of Xu Neng-Cai. The three Chinese characters: Xu, Xing, and Quan (許興泉), as well as the Greek Ionic columns on the house, are kept to allow descendants of the Xu family to remember their ancestors while passing down their family traditions. Others can also reminisce about the glory days of Xu Xing-quan Brewery and Mansion through these legacies.
Xu Xing-quan Brewery and Mansion used to be the busiest place up the Jingmei Old Street due to its unique geographical location as a ferry port. Businesses around the store benefited from crowds being attracted to the store. However, things changed over time. Water transport was replaced with land transport, including trains and cars.  Businesses subsequently moved down the Jingmei Old Street, resulting in a decline up the Jingmei Old Street and the store being forgotten by people.
Jingmei Night Market and Jingmei Public Market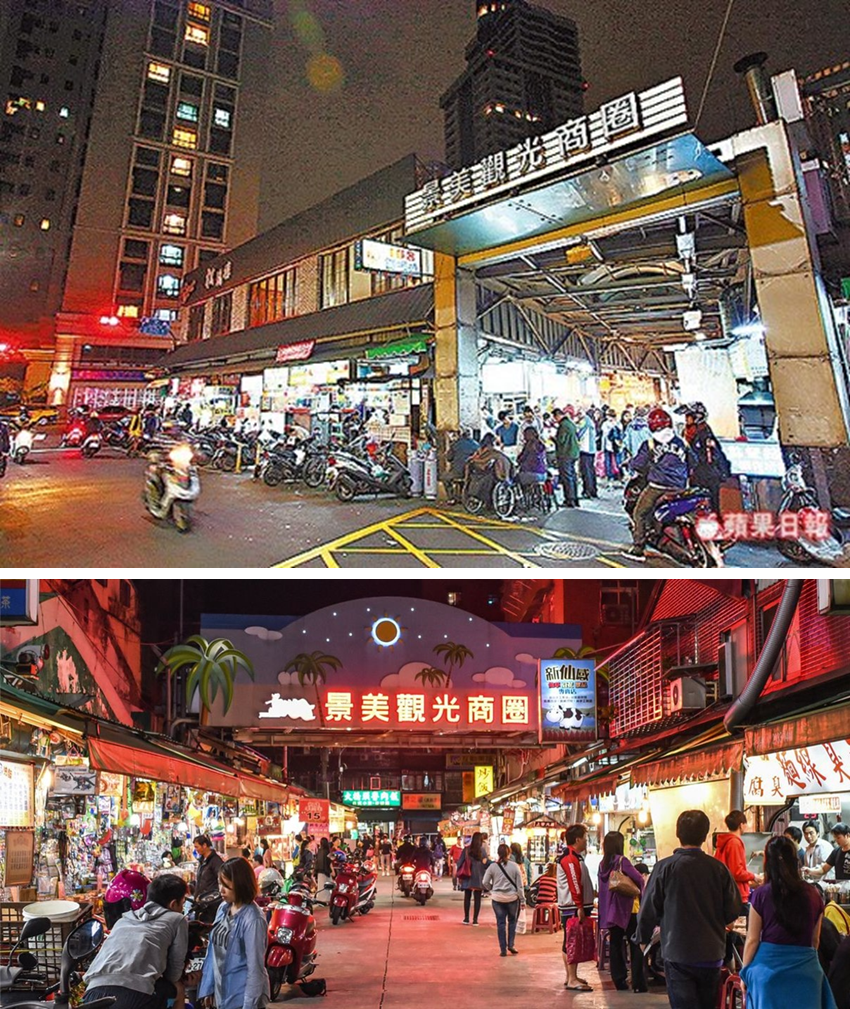 In general, a traditional market may not seem to be an attraction worth visiting. However, it is a window into local food culture. You can easily observe what the locals buy and eat through a market, whereby you can get to know their lifestyle better.
Although Jingmei Night Market is not big, it is the place where the locals like to visit the most and where they can enjoy themselves with feasting and other kinds of entertainment. The night market is next to Jingmei metro station, making it a good choice for the locals to stop by for a meal or tourists to shop and try local snacks.
Jingmei Public Market in Taipei City is located at the intersection of Jingwen Street and Lane 282, Jingxing Road. Its address is No. 137, Jingwen Street.
The first-generation public market was established in April 1919 (Taisho 8). It was the old market where there were stalls selling pork. Currently, there are still stalls selling pork; they are more than 100 years old. The first-generation Jingmei Public Market constructed during the Japanese occupation was gradually dilapidated. In 1961, the construction of the second-generation Jingmei Public Market began. In 1992, vendors built temporary stalls here at their own expense because some market buildings had to be dismantled to accommodate the city government's road widening project. The market was reopened in October 1993, which could be said to be the third-generation Jingmei Public Market. The market was dismantled again in August 2002 and reconstructed into a two-story building. This building can be said to be the fourth-generation Jingmei Public Market.
Jingmei Public Market opens in the morning; it is the traditional market where the locals do the shopping. By the evening, night market stalls open. This night market has more than 50 years of history. You can find everything here, from snacks to clothing, computer, communication, and consumer electronics products, and even pinball machines. The market is also a good place for students of nearby Shih Hsin University to eat.
When you are traveling abroad, how do you decide what to eat?
"I eat what the locals eat!" 
My strategy is to find a restaurant packed with people or a food stall where people line up for food. You won't feel too bad when eating with lots of people.
Jingmei Night Market is known for its Shanghai-style fried pork buns, oyster vermicelli, tofu pudding, Taiwanese sticky rice, Chinese four herbs soup, and barbecue foods. The most popular dishes among students are spaghetti and teppanyaki. All the snacks in the night market are tasty and cheap. The locals and students can eat in or take away. Most of the food stalls here close at around 11:00 p.m. However, some restaurants and food stalls won't close until 2:00 a.m.
Snacks recommended by the locals:
Jingmei Shanghai-style fried pork buns
First, pork buns are fried in a pan until their bottoms turn golden brown and crispy. Next, water is added to the pan to steam the buns to cook the filling inside. The tops of the cooked buns are soft and fluffy, and the bottoms are crispy and chewy. The buns are available in two flavors: mince and cabbage.
Oyster omelets (A Hua Stir Fry)
The ingredients of oyster omelets are oysters, vegetables, eggs, and tapioca slurry. After the omelets are cooked, pour sauce on them. They have a special taste; tapioca starch gives them a pleasantly chewy texture, and oysters taste fresh and tender. 
Ruitai Sesame Oil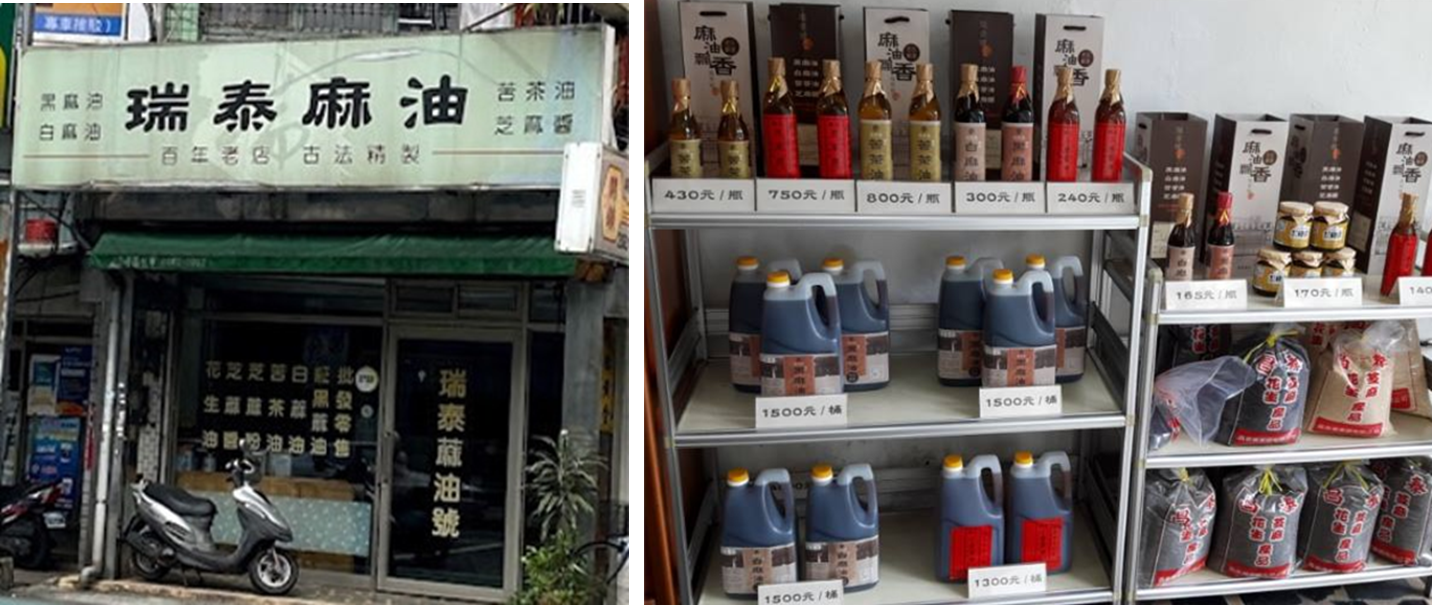 Ruitai Sesame Oil is a century-old store next to the Liugong Canal that flows through Jingwen Street. It sells tea seed oil and related products in addition to sesame oil.
Sesame oil is rich in omega-3 and omega-6 fatty acids. In Taiwan, women make sesame oil chicken soup to nourish their bodies after giving birth. Also, having a bowl of hot sesame oil chicken soup in cold weather will immediately warm us up. Thus, sesame oil is a very important ingredient of Chinese food.
Yixing Pavilion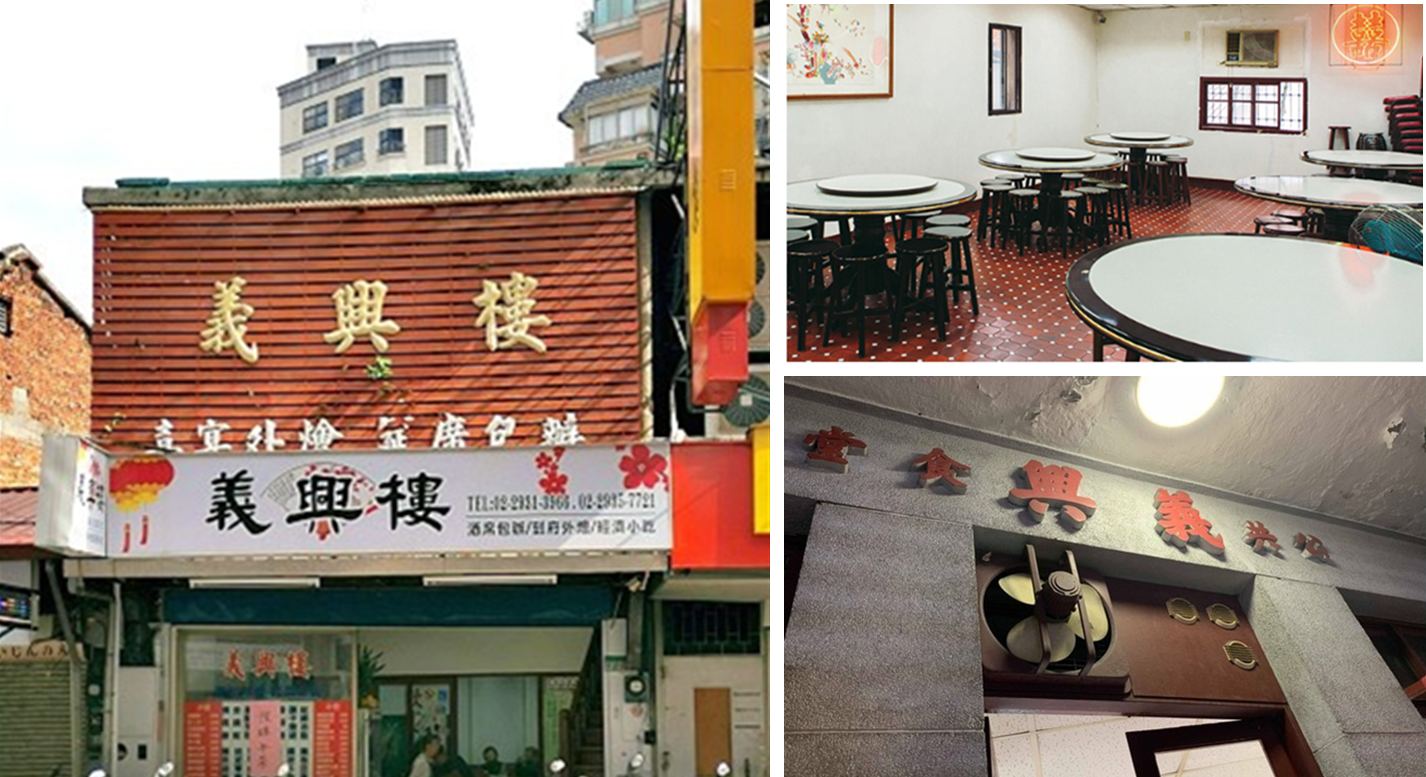 Awarded a Bib Gourmand in the 2019 Selection of the Michelin Guide, Yixing Pavilion was founded in 1938. It is now run by the fourth generation, and continues to provide customers with affordable traditional Taiwanese dishes. Its signature dish of shrimp-filled "golden coins" is pork fat medallions stuffed and fried until golden brown. Crispy on the outside and juicy on the inside, these round shrimp cakes have an amazing taste. Another dish recommended by the locals is mung bean noodles with egg floss. To make this dish, eggs should first be fried until aromatic and crispy. Next, soup is made in a pot by adding shredded pork, Chinese cabbage, shredded bamboo shoots, dried shrimp, and mung bean noodles to the egg floss. Although made of cheap ingredients, the dish was a classic cuisine in the early days of Taiwan when there was a supply shortage. The restaurant itself is quaint and simple, but all its dishes are finger-licking good that you can't forget about them.
Yixing Pavilion was formerly a noodle stall in Xindian run by Mr. Gao Yi-Xing, whose house floated away in Xindian River flood in 1924. Later his children took over his business. With support and encouragement from local senior citizens, they established Yixing Public Dining Hall in 1938 during the Japanese occupation. The shop name board is still noticeably put up on the wall at the entrance to the second floor of the restaurant. Yixing was the largest banquet hall in Jingmei at the time.
※ 本文由2021年【英語普及青年講師培訓】課程學員撰文,由石碗如女士進行翻譯校閱。